Recreational use of marijuana in Montana has been legal since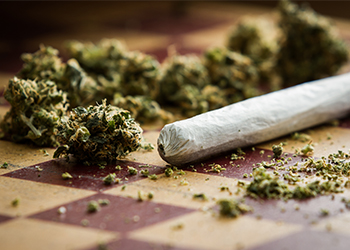 January 1, 2021, but obtaining the product is still illegal except for those eligible to purchase medical marijuana. There will be no licensed public dispensaries until 2022.
Even though private recreational use is now permitted – adults can legally possess one ounce of marijuana but cannot purchase it except as a cardholder under the Medical Marijuana Program – marijuana cannot be used in public and certainly not on federal lands, including parks, where its use is still forbidden under federal law.
If marijuana cannot be consumed in public, what does that mean for the business you operate or manage? The consumption of marijuana at work can be forbidden. Nor can an employee arrive at work high on the substance. Employers are free to terminate employees for marijuana use on the premises or for being high at work.
If you're a business owner or manager in or around Bozeman, Montana, or in Helena, Butte, Great Falls, Billings, or Missoula, who wants to understand the new law and implement applicable workplace policies, contact me at the Young Law Office PLLC.
I have been following, and will continue to follow, all developments on the burgeoning marijuana industry in Montana. I will be happy to answer your questions and help you develop sound workplace policies.
Montana Marijuana Law
Montana voters in November 2020 passed Initiative I-190 to legalize recreational use of marijuana, but the state government moved to head off the initiative while it was undergoing legal challenges by passing HB 701. HB 701 is somewhat of a compromise measure between the public initiative and what legislators were willing to accept.
Accordingly, I-190 legalized recreational marijuana use beginning January 1, 2021 but HB 701 made it illegal to purchase until January 1, 2022 unless you held a permit for medical marijuana use. The public sale of marijuana won't begin until January 1, 2022, and then initially only in already-licensed medical marijuana dispensaries, which will have a monopoly on sales until July 1, 2023.
On top of that, sales will be permitted only in those counties that voted in favor of I-190. If those counties wish to have dispensaries, they must hold a special election to vote approval. Conversely, if a county that voted in favor of I-190 wants out, voters there will have to head to the polls once again to ban marijuana sales. For example, the city of Billings voted on November 2, 2021 to prohibit dispensary storefronts within city limits.
Marijuana consumers will have to pay a state-imposed 20 percent tax on the substance, and counties can add an additional 3 percent tax if they so choose. Medical marijuana will still be taxed at only 4 percent by the state, with the locality being able to add an additional 3 percent.
When Can an Employee Be Terminated for Marijuana Use?
HB 701 gives employers broad policing powers when it comes to marijuana, its use at business establishments, and intoxication by employees at work.
HB 701 allows employers to:
Prohibit marijuana use at work

Discipline an employee for violating workplace marijuana policies or for being high on the substance at work

Decline to hire a new worker or discharge an employee because of violations of workplace drug policies or intoxication by marijuana or a marijuana product at the place of work

Include a contract provision prohibiting the use of marijuana for a debilitating disease

Be shielded by law against the state's wrongful discharge or freedom from discrimination laws in matters of workplace marijuana policy and enforcement
When Can an Employee Not Be Terminated for Marijuana Use?
HB 701 also amended the state's lawful off-duty conduct statute to include marijuana as a lawful product. This means that employers cannot refuse to hire or discriminate against an individual because of their legal use of marijuana off the employer's premises during non-working hours. The prohibition includes not only adverse hiring decisions but also adverse decisions in terms of compensation, promotion, and the terms, conditions, and privileges of employment.
In other words, employers can't refuse to hire, discipline, or terminate an employee who, in the privacy of their own home, consumes marijuana or a marijuana product. Employers can, however, take disciplinary action if an employee is intoxicated at work or violates workplace employment policies as discussed above.
Effective Workplace Drug Policies
As with any policy at work, your drug policy should be provided in your employee handbook with the requirement that employees sign and acknowledge receipt of the document. You may also want to consider drafting a separate document that you require each new hire to read and acknowledge, and if you have no employee handbook, mandate that all employees read and acknowledge the drug policy statement.
If your employee handbook has been revised to reflect an updated or new drug policy, make sure employees read and acknowledge it once again.
Signs and notices posted around the premises, certainly in any breakroom or vending machine area, can also be used to announce your workplace drug policy, which should clearly state on-premises marijuana or drug use will result in discipline and possible termination. Intoxication should also be addressed and banned.
How Young Law Office PLLC Can Help
If you're concerned about how HB 701 and recreational marijuana use will affect your business and the performance of your workforce, get in touch with me immediately. I can not only explain the law to you in detail but also help you draft a legal and effective workplace drug policy.
If you're in or around Bozeman and all neighboring communities, contact me with your questions and concerns at the Young Law Office PLLC immediately.